THE IDENTIFICATION OF COMFORT AND CLEANLINESS ASPECTS IN APPLICATION OF THE GREEN BUILDING CONCEPT CASE STUDY: AL-IKHLAS MOSQUE TAMAN GRIYA KENCANA, BOGOR CITY
Keywords:
Green Building, Al Ikhlas Mosque, Efficiency
Abstract
The green building concept is a series of concepts from the green architecture concept that focuses on building footprint efficiency, materials, energy and environmental sustainability. Given the importance of applying this concept, this study aims to determine the existing condition of the Al Ikhlas Mosque and evaluate aspects as a first step before implementing the green building concept. The research method used is qualitative research, data collection is based on surveys and desk studies, the analytical method used is a scoring method based on aspects of comfort and cleanliness. The results of this study indicate that the Al Ikhlas Mosque has an ideal score as a first step in implementing the green building concept. The recommendation in this study is that further studies are needed on the application of the green building concept at the Al Ikhlas Mosque in other aspects such as Green Materials, Energy and Water Efficiency and environmental sustainability aspects.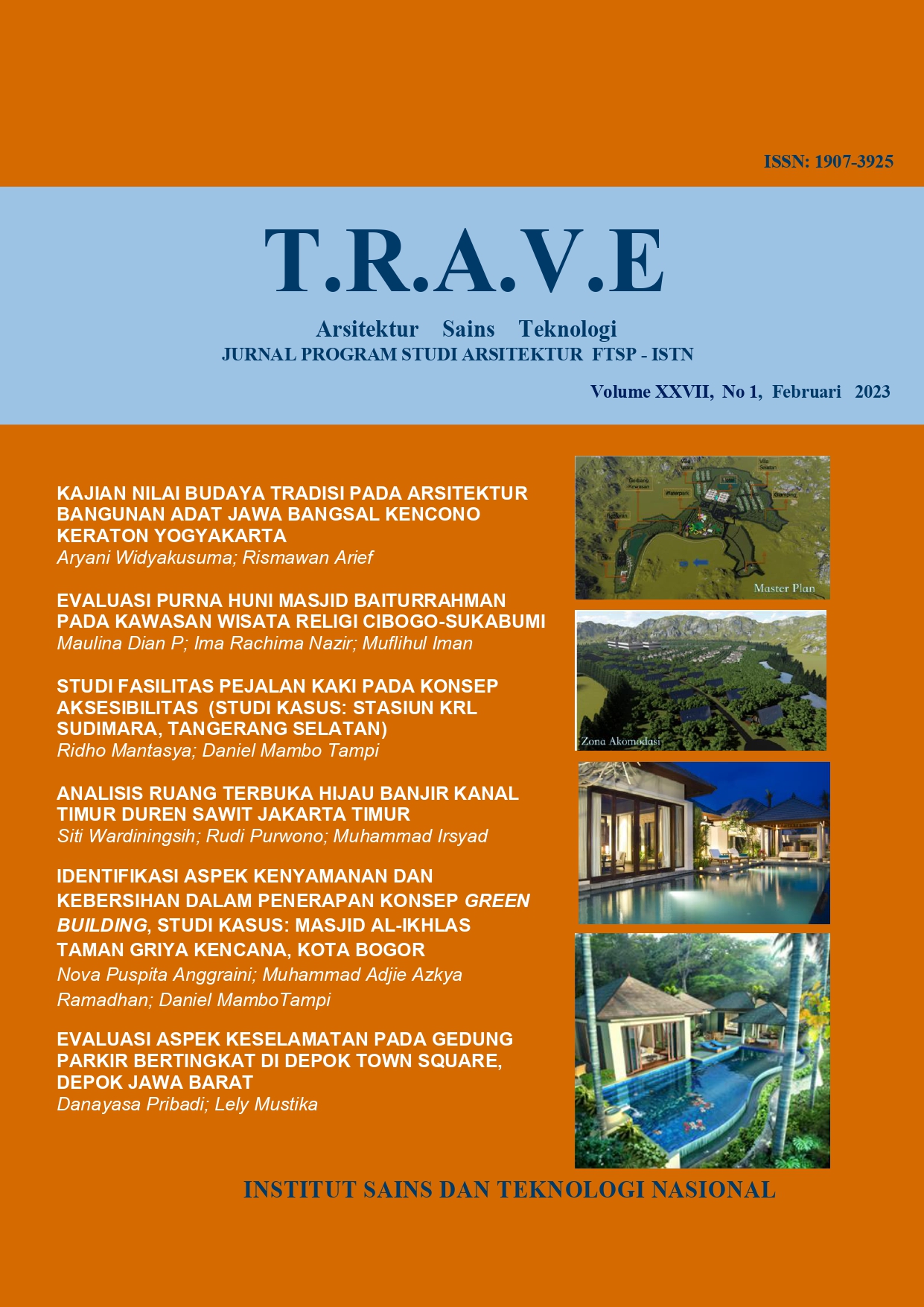 How to Cite
Anggraini, N. P., Ramadhan, M. A. A., & Tampi, D. M. (2023). THE IDENTIFICATION OF COMFORT AND CLEANLINESS ASPECTS IN APPLICATION OF THE GREEN BUILDING CONCEPT CASE STUDY: AL-IKHLAS MOSQUE TAMAN GRIYA KENCANA, BOGOR CITY. TRAVE, 27(1), 49-56. Retrieved from https://ejournal.istn.ac.id/index.php/TRAVE/article/view/1520